WOW. I have been nominated for a "Just Spotted" Best Local Blog Award!
And I am very insanely kinda competitive. So I HAVE TO really want to win.
Can you help me out? Just click over and vote? About midway down the page…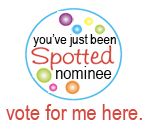 CLICK HERE NOW and go VOTE K?
Please?
Pretty Please??
I will be your best friend!!!